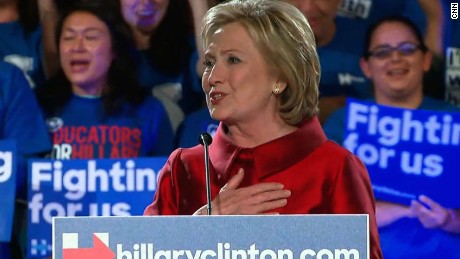 (CNN)Bernie Sanders and his followers have every right to feel energized by his second-place finish in Nevada: Only a few weeks ago, Sanders was more than 20 points behind Clinton, and yet he managed to build momentum, swiftly close the gap and nearly overtake her. But things didn't break his way, for reasons that could prove to be fatal to his presidential hopes: Economically hard-pressed voters in Nevada chose Clinton's experience and electability over the soaring hopes and class-warfare rhetoric of Sanders.
"Americans are right to be angry. But we're also hungry for real solutions," Clinton said in her victory speech — a not-so-subtle jab at Sanders for putting forward sweeping proposals including free college tuition for all, free healthcare for all and a national hike in the minimum wage to $15 an hour.
Sanders' promised programs didn't carry the day with Nevada voters, and that's a problem for him. Nevada's minimum wage is $8.25 (or $7.25 if the employer provides health insurance), meaning that a jump to $15 would boost wages, in theory, by an eye-popping 82%. But voters in Nevada — including a ton of lower-wage workers like taxi drivers, blackjack dealers, chambermaids and food servers — chose Clinton, who favors a smaller increase to $12 per hour.
Here's another way of looking at it. According to The New York Times, "the top issue for Democrats caucusing in Nevada is the economy and jobs, which was mentioned by one-third of respondents." If Sanders can't close the deal with those kinds of voters in a state as economically troubled as Nevada, it suggests he may have a hard time selling his program in other parts of the country.
"I believe on Super Tuesday we have an excellent chance to win many of those states," Sanders said, predicting that the long road to the national convention this summer will culminate in "one of the great political upsets in American history."
But that won't happen unless Sanders can retool his message and convince voters that his big-ticket proposals are not only desirable but possible.
Join us on Facebook.com/CNNOpinion.
Read CNNOpinion's Flipboard magazine.
Read more: http://www.cnn.com/2016/02/20/opinions/clinton-victory-nevada-opinion-errol-louis/index.html