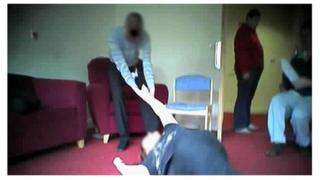 A commissioner is needed to "protect and promote" the rights of people with learning disabilities in England, a report says.
In his latest review, Sir Stephen Bubb said the government had failed to act on recommendations he made in the wake of the Winterbourne View abuse scandal.
He said the challenges ahead were "far greater than originally envisaged" with many people still needing better care.
Health minister Alistair Burt said major improvements were under way.
In 2011 the BBC's Panorama uncovered serious patient abuse and neglect at the Winterbourne View private hospital, near Bristol.
Following the revelations, Sir Stephen was asked by NHS England to examine how to address "serious shortcomings" in the support for those with learning disabilities.
His report – Winterbourne View – Time for Change – said many people were being kept in hospitals far from home for far too long.
He made 10 recommendations, including closing large "inappropriate in-patient facilities" in favour of care services for people in their own community and the introduction of a legal charter of rights for them and their families. But he later reported an "absence of any tangible progress".
Now, whilst praising some pledges made by NHS England to reform services, Sir Stephen has criticised the government for still not bringing in the charter of rights.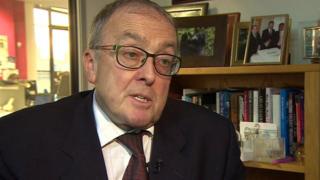 His new report, called The Challenge Ahead, suggests that 10,000 extra members of staff will be needed to support people in their own community and that these staff need to be trained to an established standard.
With at least 1,300 people expected to move out of hospital care by 2019, the report also says there is a critical need to develop housing for vulnerable people who, Sir Stephen says, should be exempt from proposed housing benefit caps.
Sir Stephen said "the dimensions of these challenges, and the failure to introduce a charter of rights in law, means that nothing less than a commissioner is required".
The commissioner "would monitor and hold to account" all those charged with delivering services.
Health minister Alistair Burt said: "It was only recently that NHS England announced a major programme to move people with learning disabilities out of hospital and into their communities, a move welcomed by Sir Stephen Bubb.
"This, combined with the increase in specialist staff including nurses, will transform care.
"We are not complacent and will work with the NHS, local government and others to make sure their plan is delivered."
---
Timeline: The Winterbourne View scandal

May 2011: BBC Panorama exposes Winterbourne View scandal. The then-coalition government promises to prepare to get thousands of people out of hospitals and into community care by June 2014. The deadline is not met
July 2014: Sir Stephen Bubb is asked to review care facilities for learning disabled people
November 2014: Sir Stephen's review is published and recommends the closure of in-hospital care units
February 2015: The National Audit Office publishes a report saying ministers have underestimated the scale and complexity of the problem. It says ministers no longer have the power to compel health and social services to provide and fund the new bespoke care, because power has been devolved down to the local level
February 2015: NHS England boss Simon Stevens faces a committee of MPs and commits to create a closure programme for large NHS mental health hospitals, and a transition plan for people with learning disabilities, within six months
July 2015: Six months on, Sir Stephen says there is an "absence of any tangible progress" and pace of change is slow
October 2015: NHS England publishes its closure programme in line with the recommendations made by Sir Stephen
February 2016: Sir Stephen says the government's "failure" to create a charter of rights for people with learning disabilities means a new commissioner is needed to "protect and promote" them.
---
Read more: http://www.bbc.co.uk/news/uk-35616956