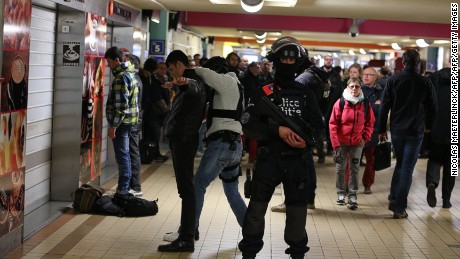 Brussels (CNN)Since the Paris terror attacks last November, Belgians have struggled with the fact that jihadists born and raised in their country were among those who carried out the carnage.
And after the carnage, the inevitable finger-pointing: fragmented law enforcement in this divided nation, as well as a lack of coordination between the 28 European Union members in fighting terrorism. And the breakdown runs deeper here — Belgium has long struggled to govern itself.
The news website Politico's Tim King stirred widespread debate in December by declaring Belgium
a "failed state."
Among the examples, it cited a failure to coordinate between the French-speaking Walloon police and their Dutch-speaking Flemish counterparts.
That breakdown is blamed in part for how long it took to catch serial child murderer Marc Dutroux in the 1990s. Reforms since then have sought to improve that communication, but language differences remain an issue.
Whether Belgium can act in a more united fashion to tackle the terror threat remains to be seen.
Some leaders argue the answer is in closer cooperation on a European level. That includes a better exchange of intelligence information between the 28 EU countries, and measures like the Passenger Name Records,
or PNR Directive
, that the European Parliament is to vote on this spring, which would oblige airlines to hand EU countries their passengers' data in order to help the authorities to fight terrorism and serious crime.
Also before the Parliament is a European Commission proposal for a common border police and coast guard, not only to tackle the migrant crisis but also to counter terrorist activity. That is to be voted on by June.
In the meantime, Belgium is Europe's latest anti-terror battlefield, and ill-equipped to fight on its own.
Read more: http://www.cnn.com/2016/03/25/opinions/belgium-a-failed-state-burns/index.html