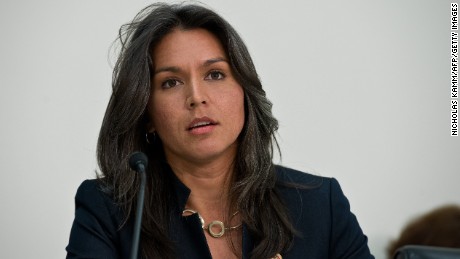 (CNN)Rep. Tulsi Gabbard defended Bernie Sanders' foreign policy credentials Monday, echoing his campaign's argument that the choice in the Democratic primary was a "question of experience versus judgment," while criticizing Hillary Clinton's past positions.
"We could look to Dick Cheney if we want to look for experience in foreign policy," Gabbard told CNN's Alisyn Camerota in an interview on "New Day."
A newly minted Sanders surrogate, Gabbard — who is also a second-term U.S. representative from Hawaii and a rising star in the Democratic Party — left her position at the Democratic National Committee in high-profile fashion Sunday, announcing on NBC's "Meet the Press" that she was resigning in order to officially endorse the Vermont senator.
And on "New Day," Gabbard, an Army combat veteran, made the case that Sanders — who has been criticized for his singular focus on economic issues — was prepared to tackle foreign policy challenges as president.
"We need a commander-in-chief who will exercise good judgment and foresight, and stop getting us into these interventionist, regime-change wars, as we've seen in Iraq, as we've seen in Libya, and as we're seeing now occurring in Syria," Gabbard said. "The stakes are very high and the contrast is very clear between Hillary Clinton and Bernie Sanders on these issues."
Gabbard focused her criticism of Clinton on her responses to foreign policy crises in Libya and Syria, in particular.
"You know, with Hillary, we've seen not only was she a champion for the Iraq War, she was the architect for the war in Libya, to overthrow (Moamma) Gadhafi, which we've seen has resulted in tremendous loss of life and chaos, and now with ISIS and al Qaeda having a stronghold in that country," she said. "And now she continues to push for the same kind of regime change in Syria, with an escalation by putting a so-called no-fly-zone in place that puts us directly at odds with Russia."
Gabbard repeatedly framed the choice between Clinton and Sanders as a question of experience versus judgment, pitting Clinton's extensive experience in government and foreign policy against Bernie Sanders' vote opposing the Iraq War.
"That's the important question here … a question of experience versus judgment," Gabbard observed — adding, "To me the real question is judgment. And as a soldier, that's what I look for in my next commander-in-chief."
Gabbard also denied that her resignation from her DNC post had anything to do with tension between her and DNC Chairwoman Debbie Wasserman Schultz, whom Gabbard has criticized for organizing a lackluster Democratic presidential debate schedule.
"Not at all — look, this is not about politics, as I said, this is about the very high stakes that exist in this election. I couldn't stand on the sidelines any longer," Gabbard said.
Read more: http://www.cnn.com/2016/02/29/politics/tulsi-gabbard-bernie-sanders-foreign-policy/index.html